Next to a bright green Brighton cannabis club flag sat Rob Davidson, who said he was there with friends "to celebrate our love of cannabis, and take a stand against unjust prohibition laws".
Davidson, the chairman of the club, described it as a local organisation that attempted to find a community-led solution to cannabis prohibition. "We don't want a capitalist takeover of weed," he said. "We hold private events, which are ticketed, friendly events. We don't sell or distribute cannabis at the events, but we allow people to come and smoke."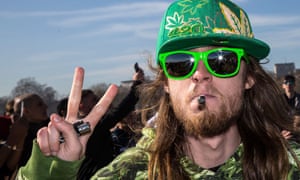 But a capitalist takeover of weed seems to be in the pipeline. Stuart Harper, of NORML UK, the self-styled political wing of the cannabis movement, was upbeat about it. "There's millions flooding in at the moment," he said. "There's rich Mexicans and rich Americans over here with millions in investment capital. In the next 18 months there's going to be a big shift."
Read more at the link below.
http://www.theguardian.com/society/2016/apr/21/thousands-roll-up-420-cannabis-picnic-londons-hyde-park
Read more...